Customization
Look and Feel
At FacePop, we believe in the power of personalization and know that it's all about the finer details!
That's why we offer a variety of look and feel settings that allow you to change virtually anything about your FacePop widget. 👌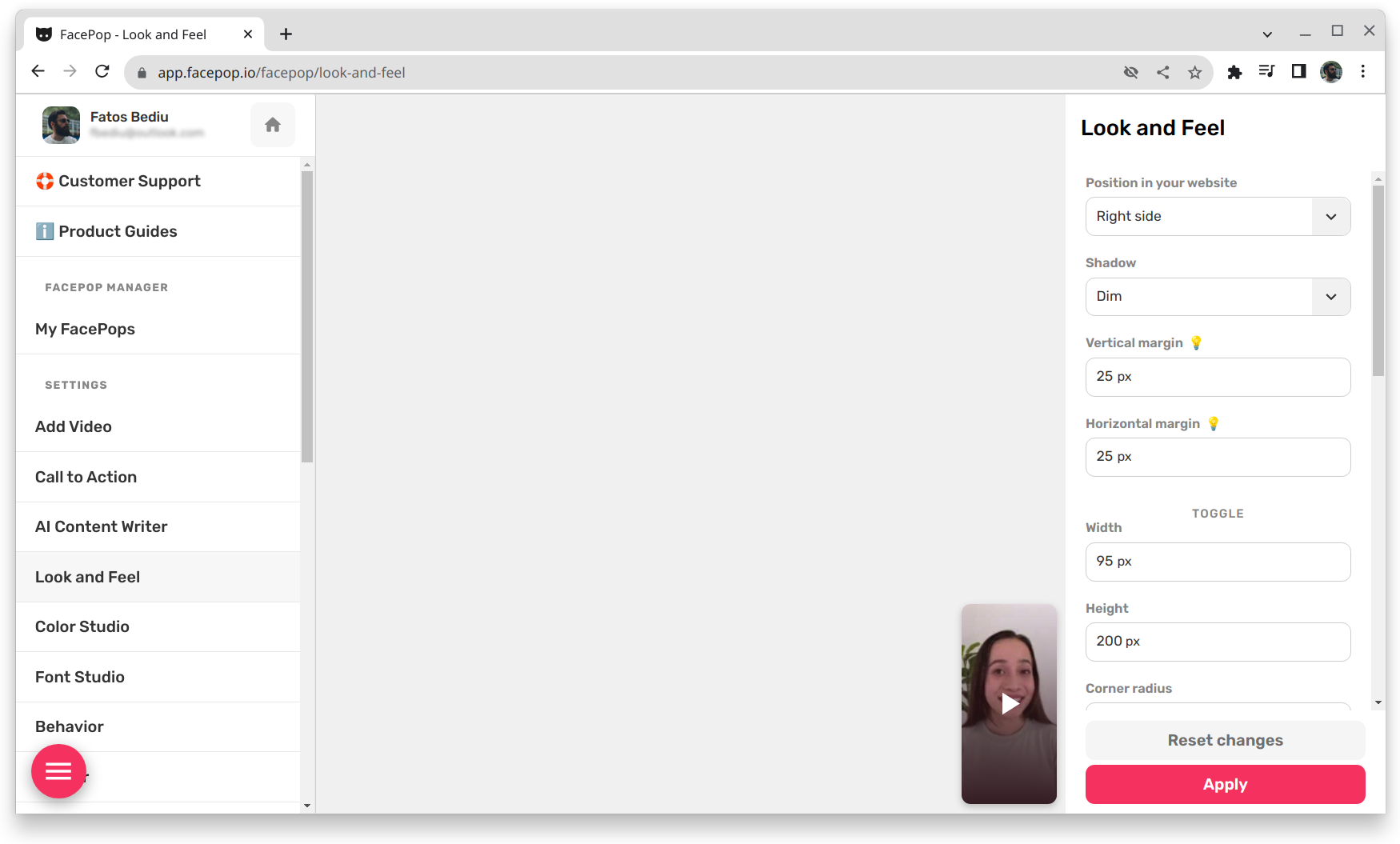 You can find the look and feel settings page here: FacePop Look & Feel
In this page, you'll be able to adjust:
Positioning
You have the freedom to set where your widget sits on your website, left or right, you're in control!
Shadow
If you're looking to give your widget a bit more depth, you can choose between no shadow, a subtle dim, medium, or a pronounced spotlight shadow.
Vertical & Horizontal Margin
This gives you the ability to define the distance of your widget from other elements on your page, keeping your website clean and balanced.
Widget Width & Height
Adjust the dimensions of your widget to best fit your website's design. You're in charge of how big or small it is!
Corner Radius
You can decide how round or sharp the corners of your widget are.
Play & Close Icon
Choose whether you want to show the play and close icon on your FacePop widget. It's totally up to you!
On Mobile Devices size
You can also adjust the size for mobile users, ensuring a fantastic experience across all devices.
SeekBar Height & Size of Controls
Tailor the video player controls to your exact liking.
Show Controls
Select if you want to show or hide the controls for an even smoother viewer experience.
Minimize icon
Choose the minimize icon to your liking.
Remember, these settings are fundamental for enhancing your users' experience, as they bring out the vibe of your brand and make your widget uniquely yours. 🌈 Enjoy!
ℹ️ These settings may modify the appearance of FacePop widgets across all devices, but rest assured that the core functionality would remain the same.
---
Feel free to experiment and find the best configs for your website! The limits? Your imagination! 💡🚀